Fast and Accurate
Internal Business Valuations
A detailed internal business valuation delivered in minutes – all you need is the basic company information and financials. Our algorithms do the rest.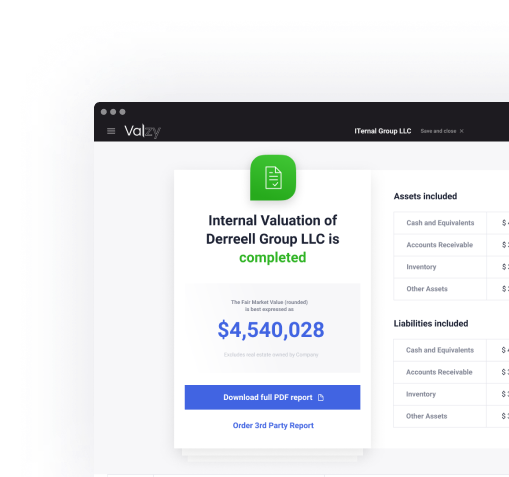 Relied Upon By 100+ SBA Lenders and SBDC Consultants Nationwide







Discover What Valzy Can Do For You
Rule of Thumb
Express Valuation feature
Get a quick estimate of value for your client's business using industry Rule of Thumb standards just by answering a few simple questions.
Fast and Simple
Generate a PDF report in less than 20 minutes
In less than 20 minutes you will receive a detailed internal business valuation PDF report outlining the subject Company's key valuation information and metrics.
Easy to use
Use a straight forward system
No need to be educated in business valuation or to learn another complex system.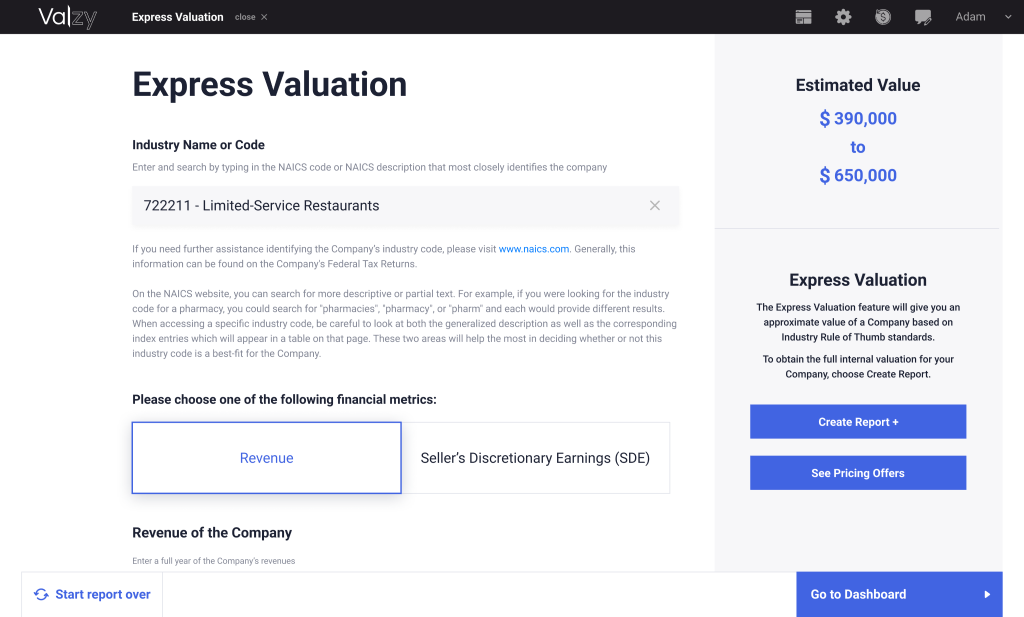 External review
Missing some information?
Ask for any additional or unknown information by simply using the Report Checklist located on your personalized Dashboard.
Make Quick Changes
Received updated company information?
Take a snapshot of your clients previous report and update the report with new data to quickly create an updated version of the report.
Share the final report
Download a completed PDF internal business valuation
From within the system, you can securely download an automatically-generated PDF report that you can share with others.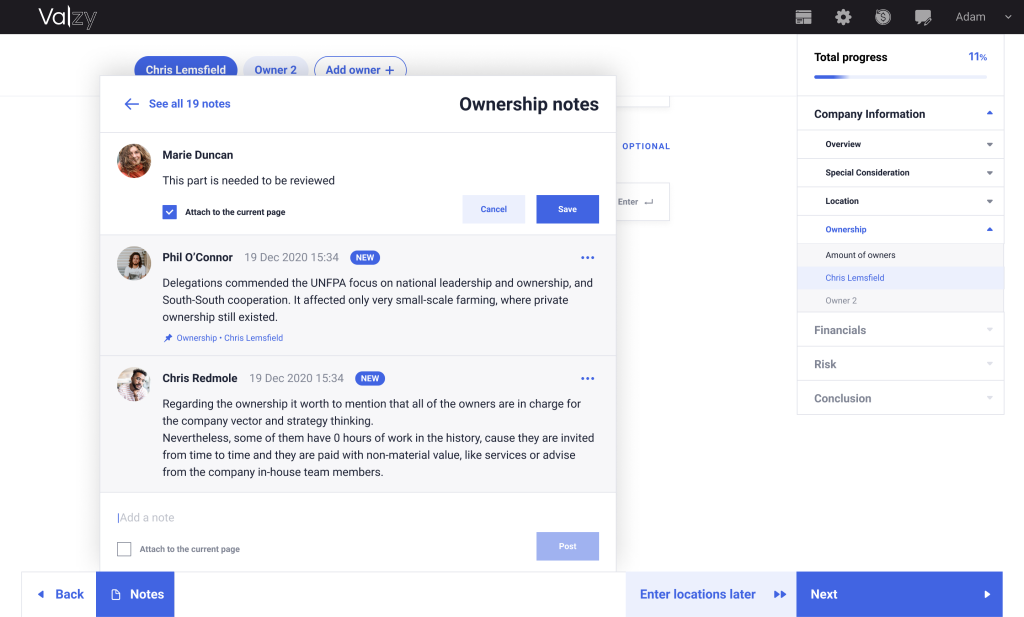 Report Management
Manage multiple reports at the same time
Manage all of your reports all in one place.
Duplicate Reports
Make a copy of any report
Create another version of a report so you can go into another version and make any adjustments needed.
Personal Dashboard
Organize your Dashboard
A unique Dashboard organized to fit your all your needs.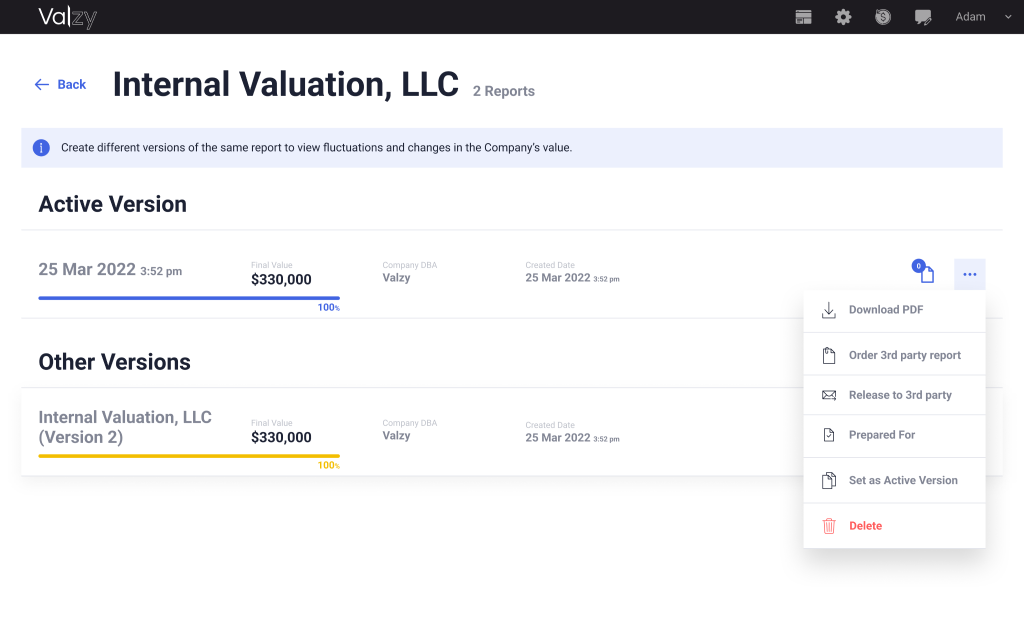 No Business Valuation Experience Required
Just follow these four simple steps!
01
Enter Company Information
All you need is your basic company information, which includes:
Industry, Location And Ownership Details
02
Enter Financials
Enter a simplified version of your financials, such as revenue, profit, and non-cash expenses.
03
Answer Risk Questions
Respond to a few multiple choice risk-based questions which are specific to your business.
04
Obtain Value
Your final value will be outlined in a detailed PDF report, with explanations related to value, assets, liabilities, risks, and more.
Our Customers Say
This tool has been a great asset as it quickly and accurately gives us insight into the value of a business.
SVP Commercial Credit Operations
Celtic Bank
We have found Valzy incredibly helpful for all parties involved including the buyer, seller, business broker and us as the lender. The software is very user-friendly and is a great balance between simple and thorough for maximum accuracy. The final report that is generated is very informative especially for those less experienced with business valuations.
VP of SBA Lending
Provident Bank
The site was easy to navigate, even for my first time. I liked the flexibility it provided to include or not include outlier years. I also liked the professional look of the final report that I could place in my file for future readers/auditors of the file.
Vice President of Credit Administration
T Bank
Of all the resources I provide as a consultant at the Pennsylvania Small Business Development Center, the Valzy report is without a doubt the most impactful for my clients. Whether they are buying a business, selling a business, or looking to benchmark and grow their current business, the Valzy report is very educational and allows clients to move their projects forward and make informed decisions.
SBDC Business Consultant
Duquesne SBDC
All Your Internal Business Valuation Needs,
In One PDF Report
The final report is highly detailed and easy to understand by any reader,
even one without any business valuation experience.